You've found the perfect prom dress, booked your limo, and now let our expert Eleanor Gonzales tell you about the perfect prom night hair!  Whether it be updo, halfdo, or wearing your hair down, the hottest trend this season is braids. This just also happens to be what I do best! I think to determine whether you're looking for updo, halfdo, or leaving your hair down, ultimately depends on the style of the dress you're going to be wearing. To list some examples, open back dresses look best with updos so you are able to show the cut of your dress. Strapless dresses with sweethart neckline are complimented best with a half updo, or leaving down with curls. No matter the look you do, adding a braid always gives that extra OOMF. It's the perfect way to spice up the typical hair style. There's so many types to choose from, waterfall braids, french braids, fishtail braids, the list goes on and on. It's a great way to play around with a variety of hair styles, and get glamorous fast. For hot summer days, where you just feel like you can't beat the heat and it helps to tame that frizzy look. It evens work well for casual, everyday looks.  To accentuate the look, you can even add in flowers, tiny jewels, or sparkly beads to add a doze of dazzle. This looks great for weddings, bridal showers, and other special occasions. There's so many options available, but creativity is all up to you!
By: Eleanor Gonzales
DeBerardinis Salon & Spa
LOBS/LONG BOB. WOBS/WAVY BOB
As Spring and Summer are knocking on our door, the trends start to change and lobs and wobs are here as our guest.  When it's time for a new hairstyle we always get anxious: to cut or not to cut? The answer is in the middle; opt with a lob or wob, for sure-fire satisfaction and up to the minute trendy hair. But should you wob or bob? The bob is surely one of the most popular haircuts of the last few years with its two newest hot incarnations: the lob and the wob. . On the BAFTA, Golden Globes and Grammy Awards 2015 red carpets we saw plenty of shorter styles with Rosamund Pike, Taylor Swift and Katy Perry swapping their longer locks for a side-parted messy shoulder-length. Also most famously, Kim Kardashian chopped off her signature raven mane and showed off a messy wob in its stead. So this means this hair cut has become a fully fledged mega trend.
But what is the difference between the two new bobs: lob and wob? The first is a long version straight styled of the bob, while the second is a wavy one. The freshness of this kind of haircut is the secret of its success: from celebrities to models, many have adopted and love these versions of the classic (maybe too classic) bob. But which is the perfect version for you? The wavy or the straight? Let see together how does "fit" best according to your features.
THE WOB. It's just a wavy version of the bob but is incredible how much it gives an update to the mane just adding a bit of bounce and volume. Just in few steps it creates a more modern and youthful look. It is perfect for the one who have natural curly hair, like Beyoncé (she is a big fan of this trend), or you can create the wave with an iron.  It's so versatile and works for nearly everyone: the volume and the curl are suitable for every kind of features, but for the round face, it's better to opt for the straight version. To maintain the look you need to trim it every six to eight weeks, so it's easy glamour really.
THE LOB. It's the straight longest version of the bob and is perfect if you don't want to change your hairstyle too much. This is surely one of the most shared by celebrities in 2014, but for sure also in 2015: This hair trend is particularly appropriate for those who want to add symmetry to their features, and to oval faces. It is also a simple way to manage a big mane.   Add bangs to a lob for a sexier appeal too (but be wary of the upkeep of bangs- they take time). With a lob, your hair will be long enough to be worn in a ponytail or bun, but also short enough to avoid spending hours with the heating tools.  Lobs need a trim more often than a wob or a bob, as it can quickly reach a mundane mid length. The lob looks best when it's kept close to the collar bone, so drop by the hairdresser at least every 6 weeks.
By:  Claudiu Albeanu
DeBerardinis Salon & Spa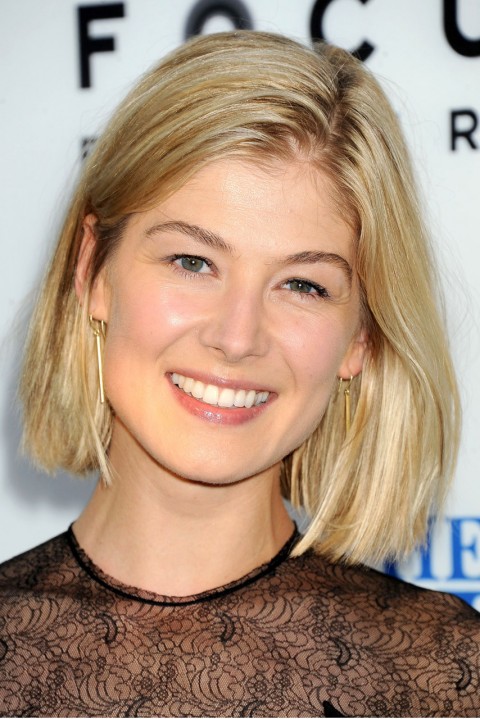 Not to be a downer but fall is around the corner.  Men always sit in my chair and ask what the upcoming trends are, and the reality is that they constantly change.  We have the side part slick look, the pompadour, the undercut slicked back that are all very popular at the time.  What I have been suggesting to my male clientele is to continue these trendy looks and change them slightly.  The change is to leave them just a touch longer in the fall season.  Sounds simple? It is if you can adjust your eyes to the feeling of needing to have a haircut as your fresh look.  Essentially giving you a worn in feeling of your former look with cleaner edges or stronger shape then when its totally grown and time for a visit.  The longer feeling helps to compliment the wordrobe changes that happen in Autumn like layering. Some examples of late include Brad Pitt, Robin Pattinson, Zac Efron and Chris Hemsworth.  Have fun and hope to see you at the salon soon.
By: Domenic Commisso
Deberardinis Salon & Spa
TIPS FOR CURLS
As summer is approaching, natural curly hair styles are a "go to" for most women. Wearable curly hair must be defined and as frizz free as can be.  Hydration is key to all things curly!  Try Dual Senses Rich Repair Shampoo and Conditioner by Goldwell.
As far as styling products go, you must ask yourself what look you want to achieve.
The Bouncy Soft Look can be achieved by applying Be Curly curl enhancing lotion (Aveda) to wet hair, followed by Glamour Whip mousse (Goldwell) for medium hold and extra shine. For best results diffuse throughout.
The Beach Look can be achieved by applying K Spray A Porter (Kerastase) to wet hair, or to already dried hair that needs extra texture can be air dried or lightly diffused.
-All looks can be completed with Big Finish hair spray (Goldwell) for extra hold and/or Diamond Gloss shine spray (Goldwell) for maximum shine.
For best results use the scrunching technique (making sure not to run fingers through hair) when applying product to wet hair, this will help keep your curls intact.
Remember to experiment with different products and have fun!
By:  Yelena Tchilikin
Deberardinis Salon & Spa
Prom and wedding season is just around the corner! Get started on your hair styles for those special occasions by indulging in a new fun trend!
Soft romantic updos embellished with flowers and beautiful accents give an updated style for any special occasion. Braids and low sleek pony tails are a simple yet fun twist to incorporate into an everyday style.
Loose mermaid waves/beach waves are still going strong! The "wet" look can be dressed up or down ( think Beyoncé ) a strong side or middle part with pin straight locks are a rockin choice as well!
Use Kerastase Spray À Porter —FROM THE COUTURE STYLING LINE
Use your imagination when thinking of your spring/ summer hair looks! Be creative and have fun! Ask your stylist for the right products and tips to get the perfect hairstyle for you!
By: Devon Screaton
DeBerardinis Salon & Spa

For coarse curly hair or heavy straight hair you need a thick, heavy conditioning hair pack — a deep treatment like Masque Nutri-Thermique you leave on once or twice a week , Bain Nutri-Thermique for shampooing and Fondant Nutri-Thermique for conditioning. These hair types generally hold oil at the roots which causes the rest of the hair to seem ultra dry. Conditioning close to the scalp should be avoided for this reason.
For normal to fine hair a combination of Bain Satin 1for shampooing with Lait Vital for conditioning will not way your hair down but will still provide moisture that is desperately needed during the dry winter months. Also Nectar-Thermique is a great nourishing care leave in to protect your hair from heat styling tools and hair dryers.
By: Domenic Commisso
Deberardinis Salon & Spa